Let's start with a picture. This is what happens when you go through your baby's toys to put some away so you can bring them back out in a couple of weeks. The picture I should of took was the one where she was giving me the stink eye for taking some of them away! lol
Ok, I really stink at meal planning. I had 2 meals that were on the list from last week. I got a "roasting hen" (big chicken) that I couldn't stand not cooking. Well a chicken is three days of meals for us. So kablooey! Meal plan out the window.
I want to try again this week. I am over my pork roast aversion (ever have a stomach virus while pork roast is cooking in a crock pot all night long? You won't be able to even look at pork for a month! lol) So I cooked one up last night and BBQed it today. So here we go...
Breakfast will be eggs, cereal, fruit and milk. Quick and easy. Lunch will be daycare food for Natalie supplemented with fruit and veggies. My lunches will be leftovers.
Monday- BBQ pork on whole wheat with country green beans (GB with onion and ham bits in them)
Tuesday - Chicken stir fry (chicken and veggies from freezer) on noodles
Wednesday - Pot Roast, mash potatoes (leftovers from freezer) and carrots
Thursday - Chicken and dumplings, peas and carrots (chicken and the stock are in the freezer from previous weeks- ya me for remembering to freeze it on day three!)
Friday - I AM going to make the salmon I've wanted to make for a month.
Saturday - Veggie lo mein
Sunday - Baked chicken (start of another chicken cycle - this one is a normal one not a nice big one) and a veggie
Want to see the lovely huge chicken? (not cooked all the way yet, I didn't want to forget my picture! and that weird hair thing isn't one lol)
And here we go, making the stock
and here is scooter chowing down on chicken and dumplings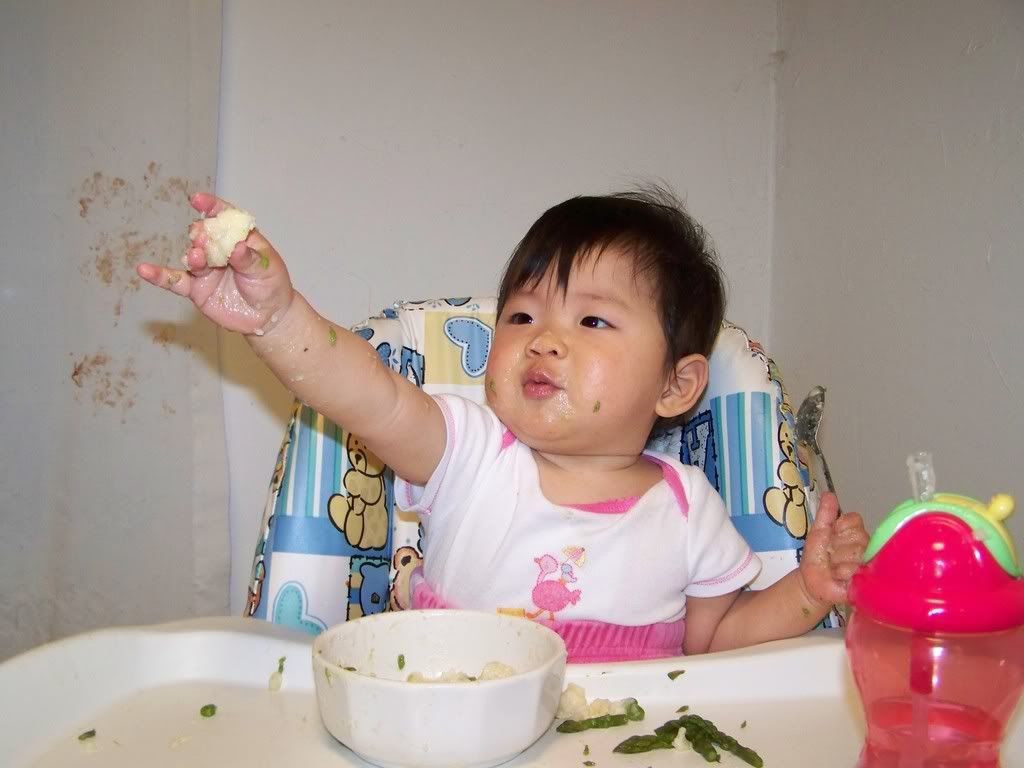 smug little thing isn't she? (and no, I've not washed the curtains she smeared beans on yet lol)
I went to the grocer more out of boredom than anything today. I know, don't shop for food when you are hungry - let's add not to shop when you are bored! This is for you Tiffany! lol
4 boxes of cereal (cheerios, total, bran square thingies and curves)
1 loaf of whole wheat bread
6 organic bananas (this week they were 10 cents less per pound than normal bananas? I am still scratching my head about that. They were 55 cents a pound - why are regular bananas going up so much in price right now? They are 80 cents at my normal store. Oops I just wrote a book about bananas but that is what goes through my head.)
1 markdown box of donut holes (hehe)
1 2-liter of diet coke (maybe that is why this post is so long? it's half gone)
a 12 pack of string cheese
ice cream (i really had a sweet tooth today)
---------- came out to $11ish. My order wasn't scanned right at all. The cheese came up at $4 something but the stickers said $2.50 so they gave it to me at that price. The cereal wasn't ringing up on the promo right and the manager said to override it. With my coupons and the cashier ringing up stuff wrong, I am pretty sure the cereal was free. There are so many voids on the receipt it's hard to figure out!!
Now for some bad news. I go back to work tomorrow. Boo hiss!! Natalie spent the entire day at daycare on Friday in preparation for tomorrow. I have her little outfit,
the Gymboree deer on
e,
ready to go - I found her brown shoes too! Score! lol Her spare lovey, her naptime blankie and 2 stuffed animals are in the wash right now. I didn't realize how much stuff I was taking to daycare until they gave it all back to me :)
I had a happy discovery today, all of scooters size 18 month purple carters clothes now fit :) I really thought they'd be fall clothes. We went to Kohl's today and I got her another set of PJs in size 18 months that were $4 (I discovered I had 12 month and 24 month and the difference is a lot!). They were the last pair like that and they were left behind because of the buggy grime on the bottom of one of the legs (which came out with cold water and dishwashing soap). I also got her a lightweight jogging suit for $11.99 which I thought was really cute. The 12 month was too small so I got the 18 month. Ding ding ding! All the purple (minus one pair of pants) was 18 months too! Sure enough, it all fits and is currently in the wash. The velvet overalls will be her easter outfit I think, Easter is so early this year and it will be too cold for her cute spring clothes.
I also bought her some stuff on Ebay (3 jogging suit type of outfits, a pair of jeans and a white cardigan to wear now and this spring with dresses) and my mommy guilt has faded. You know I've had clothing issues with her. I was trying to get her clothes at great deals but I was having issues with everything being too long, too short, too wide, too narrow. Lots of pieces and parts too that didn't match up. So I pulled out 6 pieces that just didn't work and gave myself permission to put them in the yardsale pile (they were bought at yardsales too..the circle is complete!). Do you ever do that? Give yourself the ok not to be budget minded? lol I just didn't want her to look like the poor kid anymore you know what I mean? So I spent $41 today to make her look like a million bucks :)
Whew I think that is it. Is this a record? I should really word count this thing. Night!