Tonight was our trick or treat night at work. Lots of people brought in their kids and they circled our large conference center room and got candy from about 20 stations. Scooter scooped up all kinds of good sugar :)
She wouldn't wear the poodle costume so that left me scrambling. She has like a dozen Chinese outfits so I thought about putting her in that. I hand washed one of the new ones because it smelled funny and it got really stiff. What do you know, what I thought was polyester really was silk. Anyhooo I decided that wasn't a great option. After all, Halloween is about dressing up different and a Chinese outfit on a Chinese kid..well that isn't a lot of fun (but I do think she'll wear the outfit on Christmas because she'll be pretty in it).
Then I had a duh moment. Dad brought her a VOLS outfit to the airport when we got home. I had to swap it for a 2T because it was so short and it kinda sorta fit her now (sleeves too long and too wide...I did say sort of!). With white tights and orange curly ribbon in her hair, we now had a new costume! PLUS if you want to be all frugal about it (I do after all, belong to a frugal blogger group) it was a cheap costume. The outfit was $11 on clearance from Kmart. The tights were one set out of three for $4. The "hairbows" was curly ribbon from a 75 cent spool (her fancy hairbows are at the house). So for less than $15 she got to wear a non scratchy outfit that she can wear anytime (plus her little jacket was $2 at a yard sale!).
GO VOLS!
This is her cute Elmo outfit from this afternoon. I had a credit for Kmart and it was just $10.50. What you can't see is a big Elmo on the front and little elmos on the jacket. It is a great "skinny" outfit if anyone has our problem with pants falling down.
I know of 4 good deals for Christmas this year if you have started shopping.
1) Barbie deal. Buy $100 of a certain kind and get a $50 visa card. Go to
Super Mom
for more info.
2) The Vera Bradley clearance is still going on. They are shipping things very slowly, I just got my first bag today. I loooooove it! It is the seaside tote, the colors are great and its just nice :) It was $32 ish with tax and shipping, you just can't beat that. The Lindsey and the bowler bag are being discontinued, you can get the current fabrics for just $25. I have a raspberry fizz coming and a java blue coming..both current fabrics - yay!
3) www.AmericanGirl.com coupon code 159926 $10/$30. Natalie is getting a bitty baby for Christmas from one of her Grandparents. It comes out to $39.95 with shipping with the code. And they have an almond eye baby :) ALSO if you have a bigger girl, QVC has a Kit kit (haha) for $112 on sale. And if you call them and ask, you have a good chance of them breaking it into easy payments over three months.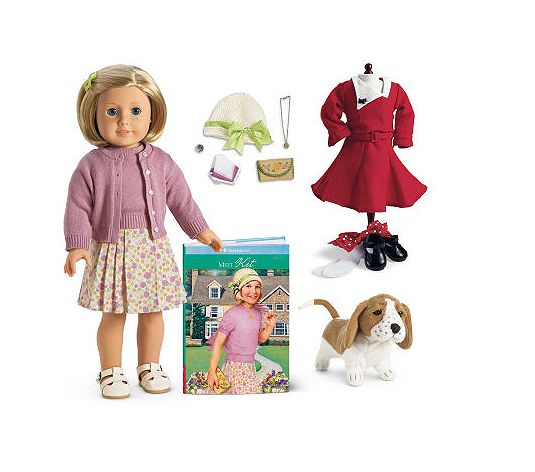 4. There are a lot of Melissa and Doug wooden toys on sale at Amazon with free shipping. This kitchen is $123.87. Regular price is 199.99. You get extra off with this promo:
Save $10 when you spend $50 or more when you pay with Bill Me Later®. Offer valid Oct 13, 2008 - Dec 30, 2008. Limited to items sold by Amazon.com. Subject to credit approval. One per customer. Enter code BMLSAVES at checkout.
Here's how
(restrictions apply)
Ok I'm done for now. I think I could of spent 1K online today easy. Soooo much fun stuff to buy, sooo little moola! lol bye!